Carry Bags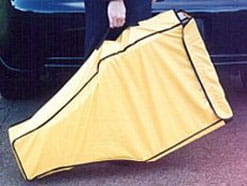 Signholder Carry Bag
Pricing from: $47 (Minimum order of 3)
Buy more and SAVE!
$51.00 Incl GST (Qty 1 to 2)
$47.00 Incl GST (Qty 3+)
Complete the
Enquiry form
for more information.
Product Information:
A Signholder carry bag protects your advertising investment whilst making it portable and easy to use. Additional benefits of a carry bag include:
Protects your vehicle from scratches and damage.
Prevents your Signholders from moving during transport.
Provides simple and effective storage of your advertising.
Easy to handle and light to carry.
Is constructed of heavy-duty vinyl with reinforced seams.
Holds up to 8 Signholders.
Velcro fastener and carry handle reduces the time required to setup and pack away your advertising.
Please contact us or complete the Enquiry form for more information.