Weighted Stands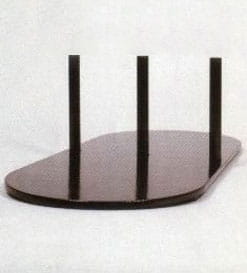 Signholder Weighted Stands
Pricing from: $73 (Minimum order of 3)
Buy more and SAVE!
$78.00 Incl GST (Qty 1 to 2)
$73.00 Incl GST (Qty 3+)
Complete the
Enquiry form
for more information.
Product Information:
Specifically designed for maximum stability.
Small and easy to carry.
Hardwearing powder-coated finish.
Guaranteed not to blow over.
The Signholder weighted stands are perfect for use on any hard surface. The weighted stand allows you to use your Signholder, (traditionally inserted into the ground) to be used on hard surfaces, either indoors or outdoors
The galvanised steel prongs of the Signholder can be inserted into a 4kg weighted stand, making your advertising even more versatile.
The weighted stand is weather resistant, hardwearing with a powder coated finish. It is of sturdy construction, designed to give your Signholder maximum stability. For outdoor use it is guaranteed not to blow over and gives your Signholder a professional look and feel.
The weighted stand complements your Signholder perfectly allowing you to maximise your signage investment without having different signs for different surfaces.
If you require a customised solution for your advertising signage needs, please contact us or complete the Enquiry form for more information.